Hit Count/BB Fill
Normal
3

BB

4

26
Drop Check/Multiplier
Normal
6

BB

4

×180%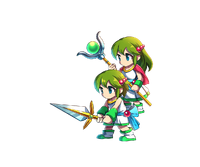 "We'll always be together.
It doesn't matter what happens.
We'll help if we can both come."
The twin princesses Il and Mina, daughters of the last emperor of the Amdahl Empire. The god-given genius of the energetic swordsman, Il, and the soft-spoken magician, Mina, was known throughout the empire by the time they were 10. However, tragedy struck on their 12th birthday when Amdahl was attacked suddenly by the former friendly neighboring nation of Palmyna. The twin princesses escaped Amdahl as the castle fell to the sudden attack.
Stats
HP
ATK
DEF
REC
Base
2,200
780
760
660
Lord
3,402
1,021
995
1,122
Anima
3,695
1,021
995
1,044
Breaker
3,402
1,099
917
1,122
Guardian
3,402
1,021
1,073
1,083
Oracle
3,402
1,021
956
1,239
Max Imp

300

120

120

120

Final, in-game stats may differ slightly