Special Events
Talk

32
1,616pages on
this wiki
Daily Events | Special Events | Past Special Events | Frontier Hunter | Summoners' Research Lab
---

The following events are all ongoing events in Brave Frontier, whether in the Vortex or in Quests. If a Vortex event is not here, it is likely not available at the moment. See Past Special Events for a list of Vortex events that have happened in the past.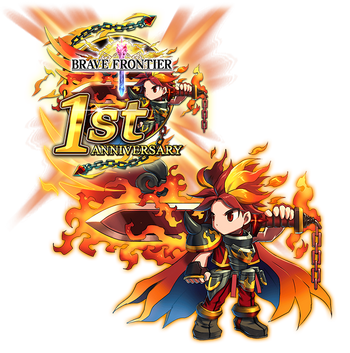 Event Duration: October 29 ~ November 30
As BRAVE FRONTIER celebrates its 1st Anniversary, we would like to take this opportunity to THANK YOU for being with us through our journey and adventures.
Now get ready for a blast and Enjoy these rewards!
Gem Giveaways

1 Gem a day for 33 days! From October 29 ~ November 30.
Be prepared for these awesome ANNIVERSARY events as BRAVE FRONTIER presents:
An eye-popping 1000 Honor Points per day and Honor Summon Rates Up starts on November 1 PST ~ November 10 PST !
An incredible Super Honor Points Up in Quests - 80 Honor Points for Friends and 40 for strangers And a Super Fusion Rate Up from November 11 PST until November 20 PST.
Astounding Super Honor Summon -Chance to get burst frog! Plus 50000 Zel per day from November 21 PST ~ November 30 PST!
Summoners, once again THANK YOU and we look forward to another year of adventures with you!
Event Details:
A swordswoman from the ruined Sama Kingdom, Selena later became known as one of the legendary Six Heroes and the savior of her kingdom! Relive her adventures through the Grand Gaia Chronicles!
Grand Gaia Chronicles Event details:
Previous "Grand Gaia Chronicles" vortex challenges will still be available at the Vortex!
Starting November 10, 0:00 PST, Holy Ice Selena's chronicles will be available in three volumes (Vol. 1 - 3, with increasing difficulty levels)
Possible rewards: Experience, Gems (Vol. 2 & 3), Zel, Karma, & a unique sphere! (Vol. 3 only)
Event Duration: 1 hour after the player has used the key
In order to obtain a Metal Key or Jewel Key, one must go to the Akras Summoners' Hall Administration Office in Imperial Capital Randall and tap Receive Key. Metal Keys are distributed every day except for Wednesdays and weekends. On Wednesday, instead of Metal Keys, Jewel Keys are distributed instead. No keys are available for claim on weekends. Up to 10 Metal Keys and Jewel Keys can be kept respectively.
Note: 1 Gem will be awarded for the first time completion of each Parade.