Hit Count/BB Fill
Normal
5

BB

5

15
Drop Check/Multiplier
Normal
10

BB

5

×250%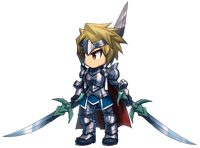 "These dual blades are
my pride as a knight!
Can you handle this power?"
A knight from the ruined Atharva Republic. His mid-air, dual wielding fighting style earned him the name Sky Knight. Extremely loyal, Falma will follow his lord's commands without question, and works hard to carry them out. He's close friends with
Sky Boss Grafl
, and it's said their friendship came from them noticing how different they really were.
Stats
HP
ATK
DEF
REC
Base
2,100
650
550
530
Lord
3,450
955
770
763
Anima
3,743
955
770
685
Breaker
3,450
1,033
692
763
Guardian
3,450
955
848
724
Oracle
3,450
955
731
880
Max Imp

300

120

120

120

Final, in-game stats may differ slightly