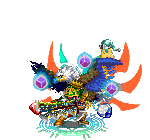 ---
Looking for my Spotlights? Head over to my Spotlights: Table of Contents!
---
Need help? Message me if you need anything!
---
Help | Spotlight Requests | Conversational Talk | Lounge Chat | Friend Request | Anything!
---
IF YOU'RE SENDING FRIEND REQUESTS, PLEASE READ HERE FOR MORE INFO
If you're seeing the Reserved List pile up, chances are that my Friend List is full.
---
ID: 10046057
You MUST message me your IGN and ID if you want to friend me!
ID: 20325150
I am not active on my JP account and thus, I will not be accepting any requests.
ID: Linathan#3109
Available for messaging only. You must message me that you are from Wikia.
When contacting me through Discord, you must message that you are from the Wikia. This will help me to better identify you. Also, introduce yourself too! I don't want to talk to random strangers around so be sure to let me know who you are first before adding me.
When asking me for squad advice, please be sure to list your units by elements or provide screenshots! This will make squad compositions a lot easier!




Give Kudos to this message
You've given this message Kudos!
See who gave Kudos to this message