Hit Count/BB Fill
Normal
4

BB

5

20
Drop Check/Multiplier
Normal
8

BB

5

×95%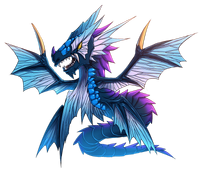 "You, he who subdued me.
Be not insolent.
Forget not the beauty of virtue."
A giant dragon strongest among the sea drakes and deathly feared by man. Extremely intelligent, it will not attack others as long as it is unharmed. Its abilities far surpass a normal sea drake, to the extent that storms rise when it appears. Loch Ness, leader of the proud sea drakes, is an impressive sight, and some sailors worship it.
Stats
HP
ATK
DEF
REC
Base
2,646
637
985
462
Lord
4,125
970
1,354
783
Anima
4,568
970
1,354
665
Breaker
4,125
1,088
1,236
783
Guardian
4,125
970
1,472
724
Oracle
4,125
970
1,295
960
Max Imp

600

120

120

120

Final, in-game stats may differ slightly
Skills
Leader Skill: Ares' Light
Small boost in the BB Gauge fill rate
5 combo Water elemental attack on all enemies