Hit Count/BB Fill
Normal
5

BB

7

13
Drop Check/Multiplier
Normal
15

BB

7

×300%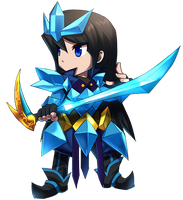 "People call me the Ice Ruler
You want me to join you?
Interesting. This should be fun."
A knight from the ruined Sama Kingdom. He was the commander of a Sama Kingdom Cavalry commando unit, but left to face the gods alone when the war began. Some admired him and tried to join, but Sergio refused them. He was always aloof even while being admired by people for his battles with the gods. At some point, he earned the title Ice Ruler.
Stats
HP
ATK
DEF
REC
Base
2,767
810
734
783
Lord
4,099
1,096
1,064
1,068
Anima
4,542
1,096
1,064
950
Breaker
4,099
1,214
946
1,068
Guardian
4,099
1,096
1,182
1,009
Oracle
4,099
1,096
1,005
1,245
Max Imp

400

160

160

160

Final, in-game stats may differ slightly