Hit Count/BB Fill
Normal
4

BB

4

25
Drop Check/Multiplier
Normal
8

BB

4

×180%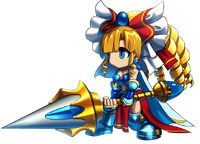 "Stop your complaining and
get a move on already, will ya?
I already promised I'd help!"
A woman with glittering hair who suddenly appeared in the La Veda Republic as the battle with the gods began. In the latter stages of the war, she appeared and turned the tide of battle when La Veda was facing unfavorable odds. Her sparkling armor earned her the title of Holy Champion, but she later ruined that with what she said. Luckily, her words went unrecorded.
Stats
HP
ATK
DEF
REC
Base
1,988
936
936
452
Lord
2,840
1,280
1,290
634
Anima
3,283
1,280
1,290
516
Breaker
2,840
1,398
1,172
634
Guardian
2,840
1,280
1,408
575
Oracle
2,840
1,280
1,231
811
Max Imp

750

160

160

160

Final, in-game stats may differ slightly
Skills
Leader Skill: Fighting Strobe
Large boost in Battle Crystals produced during Spark
4 combo Light elemental attack on all enemies