Hit Count/BB Fill
Normal
5

BB

--

20
Drop Check/Multiplier
Normal
15

BB

--
--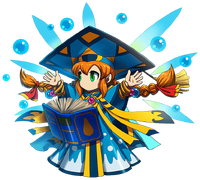 "My magic was created by the gods.
Perhaps I should call it
"divine wisdom" instead..."
A daughter from an aristocratic family hailing from the Sama Kingdom. On her travels from kingdom to kingdom, Elimo eventually reached the land of the gods, where she discovered it was they who had written the mysterious book she held. Impressed by her determination, the gods invited Elimo to become of them, but she refused. With her newly acquired divine techniques, Elimo subsequently spent her days wandering the land, imparting the gods' wisdom to any who would listen.
Stats
HP
ATK
DEF
REC
Base
3,060
729
1,000
1,356
Lord
4,680
1,003
1,376
1,873
Anima
5,273
1,003
1,376
1,715
Breaker
4,680
1,161
1,218
1,873
Guardian
4,680
1,003
1,534
1,794
Oracle
4,680
1,003
1,297
2,110
Max Imp

500

200

200

200

Final, in-game stats may differ slightly