Elimo
Talk

0
1,635pages on
this wiki
Hit Count
Normal
3
BB
--

20

SBB
--
--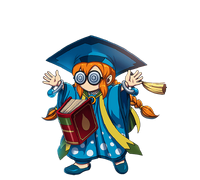 Click to enlarge unit picture
A daughter from an aristocratic family hailing from the Sama Kingdom. A fervent reader, she was known to read academic tomes instead of picture books as a child. When she was 15, she stumbled across a book written in a mysterious language, and swore to one day decipher its contents. Hearing tales of remote stone monuments inscribed with a similar-looking script, she embarked on a journey into unchartered lands teeming with monsters, with only the magic she had learned from her books to protect her.
Additional Information & Notes
BF Global confirmed that both Heal BB and Buff BB can level up BB levels of Elimo.