Hit Count/BB Fill
Normal
4

BB

4

17
Drop Check/Multiplier
Normal
8

BB

4

×320%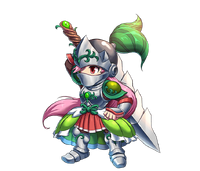 "Will you join me and fight
against the gods?
In that case, raise your sword!"
One of
the four legendary warriors
who fought to save the Kingdom of
Palmyna
. Clad from head to toe in armor which concealed her true identity, legend has it that this knight was actually the Princess of
Palmyna
in disguise. After hearing about the gods' plans to lay waste to
Palmyna
, Edea clad herself in the legendary Emerald Armor of Lafdonia, and set out on a mission to save her homeland.
Stats
HP
ATK
DEF
REC
Base
2,250
800
800
570
Lord
3,495
1,080
1,056
969
Anima
3,788
1,080
1,056
891
Breaker
3,495
1,158
978
969
Guardian
3,495
1,080
1,134
930
Oracle
3,495
1,080
1,017
1,086
Max Imp

400

100

100

100

Final, in-game stats may differ slightly