Hit Count/BB Fill
Normal
7

BB

10

25
Drop Check/Multiplier
Normal
14

BB

10

×150%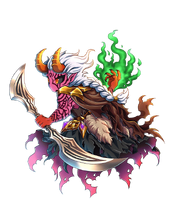 "I'll lend you my power,
as weak as you are, Summoner.
Just know, I will likely turn on you."
Disciple of Cardes the Malevolent. Since his leader Cardes was sealed away he cannot use his full power, but even so he's powerful enough that normal Summoners stand no chance against him. Very skilled at stealth attacks and assassinations, there are few gods who can even sense Zebra's presence when he conceals himself. Anyone unfortunate enough to see his dual blade sword is cut to pieces before they even know what hit them.
Stats
HP
ATK
DEF
REC
Base
2,300
1,000
500
800
Lord
3,550
1,480
820
1,120
Anima
3,993
1,480
820
1,002
Breaker
3,550
1,598
702
1,120
Guardian
3,550
1,480
938
1,061
Oracle
3,550
1,480
761
1,297
Max Imp

750

160

160

160

Final, in-game stats may differ slightly