Hit Count/BB Fill
Normal
5

BB

9

24
Drop Check/Multiplier
Normal
10

BB

9

×315%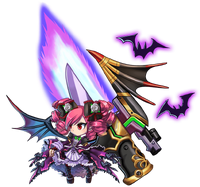 "My demon blade's thirsts.
Can you provide the sustenance
it requires?"
Drawing from her demonic heritage, Lico managed to further infuse dark powers into her fearsome dark blade. Convinced that her former sisters-in-arms had gained superior powers since their crushing defeat, she rejoined the
Battle Maidens
, taking up arms against the gods once more in hope of experiencing the most entertaining battle extravaganza of her lifetime.
Stats
HP
ATK
DEF
REC
Base
3,445
1,375
985
1,090
Lord
5,310
1,750
1,130
1,370
Anima
5,903
1,750
1,130
1,212
Breaker
5,310
1,908
972
1,370
Guardian
5,310
1,750
1,288
1,291
Oracle
5,310
1,750
1,051
1,607
Max Imp

750

300

300

300

Final, in-game stats may differ slightly