Hit Count/BB Fill
Normal
3

BB

6

25
Drop Check/Multiplier
Normal
18

BB

6

×160%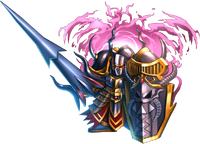 "I'm one with the dark.
I am the knight in the shadows.
Summoner! Seek the dark with me!"
A former knight from the utterly devastated Bariura Empire, he wielded a giant lance as one of the
Six Heroes
. He headed to the capital once he found out who had killed his parents in fear of his power. However, the war with the gods soon began. He killed countless gods on his way to face
the emperor
, earning him even more praise. It is, however, yet unknown as to whether or not he got his revenge.
Stats
HP
ATK
DEF
REC
Base
3,127
845
1,011
487
Lord
4,876
1,198
1,400
755
Anima
5,469
1,198
1,400
597
Breaker
4,876
1,356
1,242
755
Guardian
4,876
1,198
1,558
597
Oracle
4,876
1,198
1,242
992
Max Imp

500

400

400

200

Final, in-game stats may differ slightly