Hit Count/BB Fill
Normal
6

BB

--

20
Drop Check/Multiplier
Normal
12

BB

--
--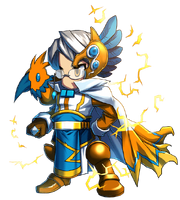 "With my help, you'll
surely transcend boundries.
Would you like that?"
A tactician from the ruined Atharva Republic. His strong eye for strategy not only saw his imminent defeat, but also that there were still some gods willing to save humanity. Due to this foresight he focused on surviving instead of winning. Many soldiers called him weak, but the result was that many people were saved by him.
Stats
HP
ATK
DEF
REC
Base
2,997
742
644
1,283
Lord
4,326
925
826
1,740
Anima
4,769
925
826
1,622
Breaker
4,326
1,043
708
1,740
Guardian
4,326
925
944
1,681
Oracle
4,326
925
767
1,917
Max Imp

500

140

260

200

Final, in-game stats may differ slightly
Skills
Leader Skill: Fighting Strobe
Large boost in Battle Crystals produced during Spark
Brave Burst:
Thunder's Reign
Great boost to all allies' ATK
for 3 turns