Hit Count/BB Fill
Normal
6

BB

6

28
Drop Check/Multiplier
Normal
18

BB

6

×190%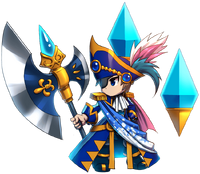 "You, summoned me!?
Guess now there's little left
but for you to meet the Sea God."
Master Commander of the ruined Sama Kingdom's navy. He first took his job as admiral as a joke, but after learning he was descended from the previous admiral began showing his true fortitude. He took on the gods, liberating the seas, all whilst rebuilding a corrupt navy. For his merits he received the treasured axe Poseidon.
Stats
HP
ATK
DEF
REC
Base
2,861
1,121
774
1,318
Lord
4,169
1,517
1,064
1,851
Anima
4,762
1,517
1,064
1,693
Breaker
4,169
1,675
906
1,851
Guardian
4,169
1,517
1,222
1,772
Oracle
4,169
1,517
985
2,088
Max Imp

750

140

140

140

Final, in-game stats may differ slightly